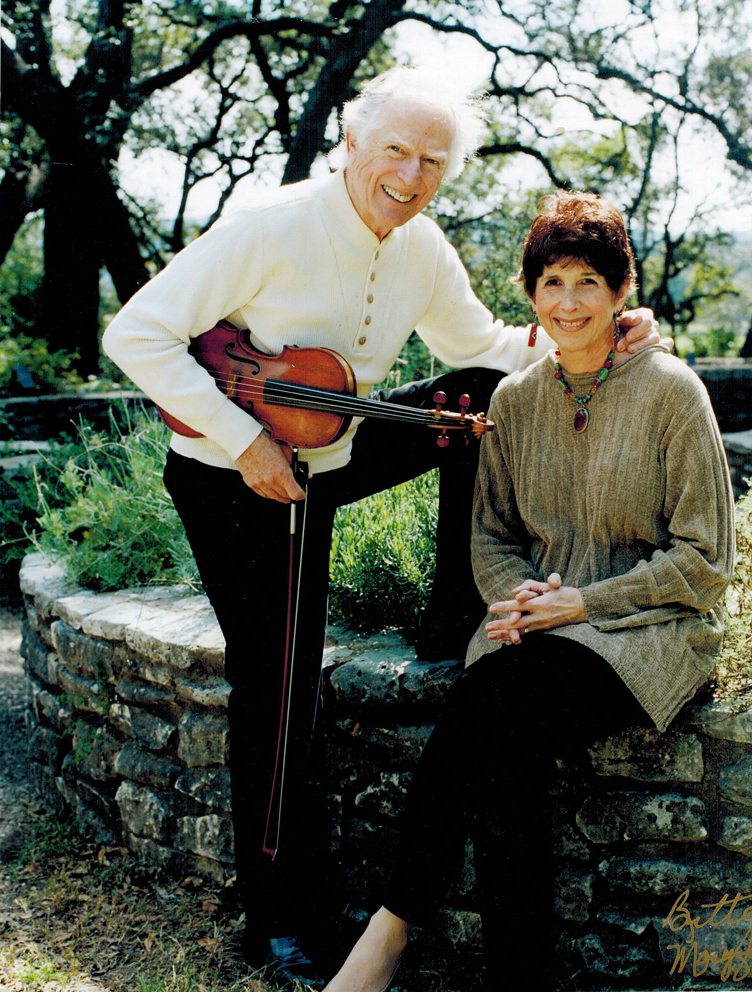 History
After a long career as a concert artist and revered teacher, Austin Symphony violinist Robert Rudie founded Salon Concerts (SC) in 1990. Prior to that time, there were few chamber music concerts presented in Austin outside of UT faculty performances and no one had presented chamber music in small, intimate venues. Robert Rudié's passion for playing and presenting chamber music filled a vacuum for grateful audiences, and the organization he began has provided outstanding chamber music concerts and education for the past 27 years.
Throughout the years, SC established itself as a vital cultural institution. The CHAMPS program was launched in 1991 and met a demand for ensemble coaching and private instruction in public schools and continually expanded to reach more and more students. As Austin grew in size, diversity and artistic stature, SC increasingly offered concerts with works by women composers and contemporary composers as well as the standard repertory. While continuing to incorporate great local artists into its roster, SC has also invited renowned national and international artists to perform.
In 2008, founder Robert Rudie retired as Artistic Director and was succeeded by his wife, Kathryn Mishell. Toby Blumenthal came on as CHAMPS Director in 2001 and under their leadership, the organization continued to flourish, adding ever more exciting concerts and growing the educational program to reach more students. Today, Salon Concerts continues to produce excellent chamber music performances for Austin audiences and the CHAMPS program has expanded to include 16 middle and high schools from Austin, Eanes, Round Rock, Lake Travis and Georgetown Independent School Districts.
The founder of Salon Concerts and CHAMPS, Robert Rudié was born in New York City, the child of French immigrants Yvonne Connegère and Lazar Rudié. He came to Austin in 1981 where he served on the violin faculty at the University of Texas, and settled here a few years later. He was the beloved husband of Kathryn Mishell, and will fill her heart forever with the gift of his passion for life and music, his humor, and his undying devotion to her.


Robert had a long and varied career as violinist, conductor, educator, and actor. He began his study of violin at age seven, and made his concert debut at age ten. His violin teachers were Jacques Malkin, Louis Persinger, Albert Spalding, and Boris Koutzen. After graduating from the Juilliard Graduate School with honors, his musical career has included First Violin section, N.B.C. Symphony; Concertmaster and Assistant Conductor, Oklahoma Symphony; Concertmaster, American Symphony in New York City, Orchestra of the Americas, Westchester Symphony, Aspen Festival, New York City Ballet, New Jersey Symphony; Guest Concertmaster, Dallas Symphony, Honolulu symphony; and Assistant Concertmaster, Austin Symphony.

Robert made seven tours of the United States, Canada and Mexico as recitalist and soloist with orchestra under Columbia Artists Management, and five tours as conductor and soloist with the Rudié Sinfonietta under the same management. He was a participant in seven Casals Festivals in Europe and Puerto Rico.

As educator, he was Director of the Riverdale School of Music in New York City for nineteen years, head of the String Department at Harlem School of the Arts, and has been a member of the faculty at Vassar College, University of Oklahoma at Alva, Westchester Conservatory, and the University of Texas at Austin.

His acting career began when he was a boy, playing lead roles in Clare Tree Major's Children's Theater in New York City and then as a teenager playing roles in French in the Teatre Français in New York City. After a long hiatus, his acting career resumed with the performances and national tours of two one-man shows, PAGANINI! and HEROES AND LOVERS, with pianist and composer Kathryn Mishell. Acting roles in Austin, Texas include Scrooge in the Zach Scott production of A Christmas Carol at the Paramount Theatre, Saul in True West, Sam in Where There's a Will, Sidney in Inspecting Carol, Max in The Homecoming, Doc in Westside Story, Bennett in Travesties, Polonius in Hamlet, Serebryakov in Uncle Vanya, and Sir Joseph Porter in H.M.S. Pinafore.

Robert Rudié's performance as Paganini won an Emmy award for the Steve Allen PBS-TV show "Meeting of Minds" in 1981.

As chamber musician, he was first violin of the Riverdale String Quartet and Bronx Arts Ensemble before founding Salon Concerts in Austin in 1990. These concerts help to support the CHAMPS program he founded to teach chamber music in public schools at no expense to the students or the schools. He was passionate about chamber music. He continued to perform, coach ensembles and travel to schools into his 90s. Robert Rudié passed away at home on March 4, 2012 three weeks after his 93rd birthday.